The Magicians, The Men Who Built America, Life Sentence & Riverdale, these are a few of our favorite things. But really, its all about The Magicians.  Over and Over Again!
8pm Hour: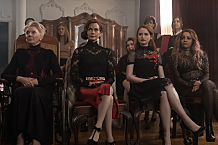 1st Choice:  Riverdale.  "After learning that his dad is considering running for mayor of Riverdale, Archie begins to grow concerned that the Lodges may have found their newest pawn in Fred. Meanwhile, Betty becomes increasingly suspicious of Chic's strange behavior and enlists Kevin's help to figure out what Chic is hiding. Finally, Cheryl and Penelope are surprised when they learn that Clifford left a secret will, and Jughead makes a major discovery in his quest to take down Hiram." The CW
2nd Choice:   Blacklist.  "As Liz investigates new details in a cold case from her early work as an FBI profiler, she explores her darker impulses in therapy with Dr. Fulton. The Task Force takes action to bring down Tom's killers within the legal system, while Red takes a different approach to closing in on Ian Garvey." NBC
3rd Choice: Just rewatch last week's amazing The Magicians and get ready for tonight's new episode!
9pm Hour: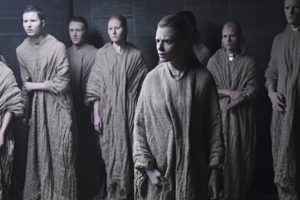 1st Choice:  The Magicians.   "Quentin and Alice search the castle for an important object, while Julia and Fen work with an enemy."   Syfy
2nd Choice:   Life Sentence.  "When the INS unexpectedly shows up to Stella and Wes' apartment to check the legitimacy of their marriage, they realize that they need to defend their marriage or Wes might be deported back to London. Peter and Ida decide to sell the house, but when an offer comes in, Peter hesitates on following through. Stella tries to help Aiden step up to his responsibilities and to stop avoiding reality. Meanwhile, Elizabeth is having writer's block and Stella thinks she has a fix." The CW
3rd Choice:  The Men Who Built America: Frontiersman. "Shawnee warrior Tecumseh unites the Native American tribes to resist expansion. After Thomas Jefferson orchestrates the Louisiana Purchase, Lewis and Clark make their legendary expedition to the Pacific, and a new war for America begins." History
10pm Hour:
1st Choice:  The Men Who Built America: Frontiersman. Continues on History.

2nd Choice:  Homicide City.  "Northeast Philadelphia's Crescentville neighborhood is known for tranquility seldom seen in major cities. But when a mother, her boyfriend, and daughter are found slain at home, the community wonders whether the violent murderer is one of their own."  ID
3rd Choice:   Designated Survivor.  "When a video of the president visiting prison leaks to the media, his team works to minimize the fallout. Meanwhile, a surprise White House demonstration has deeper ties to the president than anyone first realizes." ABC