Love It Or Leave It?
The Little Drummer Girl
November 19, 2018
In the Spring of 2016, AMC aired a miniseries adaptation of John le Carre's 1993 novel, The Night Manager. The excellent series, which starred Tom Hiddleston, Hugh Laurie and Olivia Colman, brought AMC together with the independent film studio, The Ink Factory (which is run by le Carre's sons, Stephen and Simon Cornwell) and the vaulted institution of the BBC. Together, le Carre's work popped from the page onto the small screen in a 6 hour movie, replete with careful plotting, beautifully shot locations, and top notch acting performances.  Fast forward two and a half years and the BBC, The Ink Factory, and AMC have now reunited for an all new John le Carre adaptation, this time doing his 1983 novel, The Little Drummer Girl.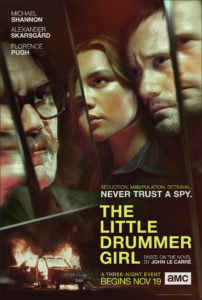 Split into a six-part miniseries, The Little Drummer Girl stars Alexander Skarsgård (Big Little Lies; True Blood), Michael Shannon (Waco; The Shape of Water), and Florence Pugh (Outlaw King; Lady Macbeth), and is directed by acclaimed Korean filmmaker, Park Chan-wook (Old Boy; The Handmaiden; Stoker), making his television directorial debut.  AMC will air the six parts over three consecutive nights, November 19-21.
Continue reading "TV Recap: The Little Drummer Girl – Love It Or Leave It?"