The Outpost
"The Mistress and the Worm" (Episode 103)
July 24, 2018
The last episode of The Outpost ended with Kell turning into a Plagueling after he was bitten, and Talon saving Garret's life after the Plagueling attacked him. If you haven't caught up on all the action, read my previous recap and review here!
On to this episode … after the jump (SPOILERS AHEAD!)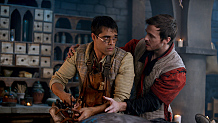 This episode opens with Janzo in the bar basement.  Garret and Talon bring him Kell's body to do research.  The creature inside Kell's throat is still alive and Garret kills it.  Janzo wants to look at more bodies to do more research.
The Mistress's son follows Worm to see who his contacts are and where he goes.  Worm is on to him and hides.  He jumps out and kills the Mistress's son.
Garret is concerned that Talon doesn't understand what "giving your bond" means.  It means that Gwynn will die as well, if Talon gets in trouble.  Garrets suggests she move on from The Outpost.  Gwynn sends a request for Talon to meet her for tea and Talon accepts.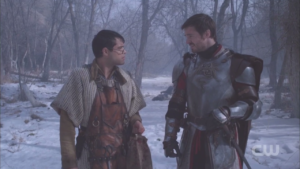 Garret takes Janzo to look at more bodies with Munt (Adam Johnson).  There is a marking on the bodies.  It is a red circle with a dot in the center.  Janzo says that this is something new.  He thought that Talon would be coming along to examine more bodies.  Garret says that Talon manipulates and she's dangerous, but Janzo thinks that she is perfect.
Talon meets Gwynn for tea and Gwynn immediately suggests that Talon take a bath.  She thanks Talon for what she did and Talon thanks her as well.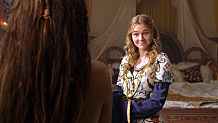 "We did for each other what we were incapable of doing for ourselves. We make good partners."
Gwynn offers Talon her friendship.  Talon says that it is hard for her to trust people and Gwynn suggests they take it slow.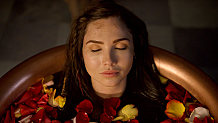 The demon is out prowling at night unseen, and it kills a woman.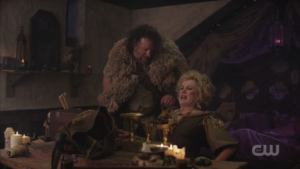 Talon asks The Mistress for work and she says that Talon can be a barmaid.  The Mistress goes to her office and Munt brings her a satchel with her son's head in it.  She immediately knows this is from Worm as a sign they are getting 'cut off.'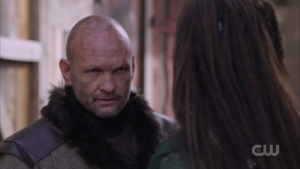 Wythers is investigating the killing. He thinks a Greyskin killed the woman, but doesn't understand how it could have gotten inside the walls, dragged the woman across town, and then went back to the Outlands.  The woman was left under Talon's window.  Wythers starts to question her and again asks her about the "one remains."  He thinks the one that remains is her.  He suggests she leaves The Outpost so the Prime Order can hunt her elsewhere.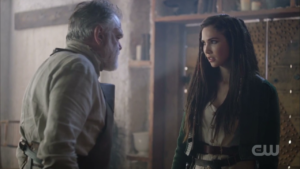 Talon goes to see The Smith and he tells her that she needs to send the demon back through the portal or it will kill again.  She wants him to teach her but he says she doesn't need a teacher.  She already knows what is required to command the demon, Baphnoro, to return to the plane of shadow and ash.  She doesn't understand why it would obey her and The Smith explains that the blood in her veins comes from the Gezzekhan, their Lord Emperor. The Lu-Qiri follow an absolute line of authority, so it has to obey her.  She just has to be patient and clear her mind or she won't be able to banish it.
Wythers asks Garret if he knows what could have done this.  Garret is amused that his father has to ask him about what caused this when he never wanted Garret to become a soldier.  Wythers tells Garret that he considers Calkussar as a betrayer. Garret responds, "he knows more of loyalty and sacrifice than you ever will."  Garret leaves the conversation telling his father that he killed a Plagueling inside the walls and that is was Kell that turned.
Talon is working with Janzo and he asks her what she keeps looking for on the arms of all the men.  He wants to help, so she tells him.  Worm comes into the bar to tell The Mistress that she is out of the colipsum business. He shoots an arrow at her and Talon deflects it with a tray.  Worm runs off.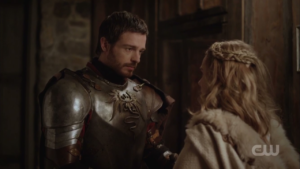 Gwynn continues to make advances toward Garret and he pushes her away saying that they can't be together.
"I swore an oath to protect you at all costs. And I plan to.  Even if it's from myself."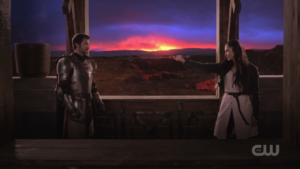 Talon hears the demon outside her window and follows it to the wall.  Garret catches Talon on top of the wall and questions her reason for being up there.  As they are talking, he asks how she could have killed Magmoor since he is twice her size and a legendary swordsman.  He inquiries about her skills with a sword and she suggests that she show him.  She disarms him and points his own sword at him.
"Men like you underestimate me."
She suggests they spar, which is left at a challenge, more or less.
Ambassador Dred (Philip Brodie) reads Wythers' letter and calls to gather the 'Bones.'  He wants them to ride for Gallwood Outpost and if a Blackblood remains, kill it.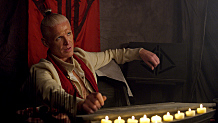 End credits.
Thoughts:
It is interesting to see where this new found friendship between Talon and Gwynn will go.  Will Talon learn to trust her?  Will she use the 'bond' that Gwynn has to her as leverage? Is she really as manipulative as Garret has suggested?  I was surprised to see that Garret and his father actually agreed on something:  wanting Talon to leave The Outpost.  By the end of the episode, it looked as though Garret changed his mind … maybe?
How will The Mistress deal with Worm now that he has cut off her supply of colipsum and attempted to kill her?  I'm guessing he may not survive much longer, or at least until she can get the information of his supplier out of him.
The love triangles in this series are entertaining to watch, especially since Talon doesn't seem to be interested in a romantic relationship.  If Gwynn finds out that Garret flashes that smile of his towards Talon, will it ruin Gwynn and Talon's 'friendship'?
The end of the episode seems to be setting up a heroic battle.  If all the 'Bones' end up at The Outpost, will Talon meet them and finish her mission?
Episode Score: This episode was enjoyable and I give it 3.5 out of 5 Casey's.