Wednesdays get even better because we not only have The Magicians to watch but right after this week's trippy timeline episode, Syfy premieres its new DC Comics property show, Krypton! These are our Top Picks To Watch Tonight!! Also on the bubble, Riverdale, Life Sentence and The Men Who Built America are all new.

8pm Hour: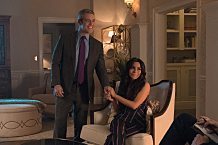 1st Choice:  Riverdale.  "In the aftermath of Hiram's newly announced plans for Riverdale, Jughead resorts to drastic measures to voice his opposition. After making her own big announcement, Hermoine's friend Andy Cohen comes to town to lend a hand. Meanwhile, Veronica goes against her parent's wishes to keep a low profile and runs for student council president. Elsewhere, Mary arrives in Riverdale just as tensions between Fred and Archie reach a breaking point. Finally, Cheryl fears that someone is out to get her." The CW
2nd Choice:   Inpractical Jokers..  An hour of repeats on TruTV.
3rd Choice: Just rewatch last week's amazing The Magicians and get ready for tonight's new episode!
9pm Hour: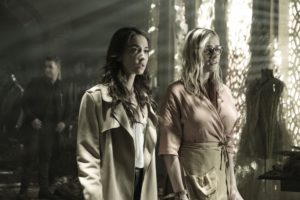 1st Choice:  The Magicians.   "The group strategizes, as Josh and Julia travel to a familiar place and are given a chance to help."   Syfy
2nd Choice:   Life Sentence.  "As Stella settles into her new volunteer role as patient advocate, she learns that Sadie doesn't have anyone to fight for her. Stella suggests Sadie try the clinical trial that worked for her, but their hopes are dashed when they learn the trial ended. While Wes is babysitting Diego's kids, one of them gets sick, and Ida offers her help. Meanwhile, Aiden pushes his father to have a guy's night out to help him move on from Ida." The CW
3rd Choice:  The Men Who Built America: Frontiersman. "Britain and Tecumseh's war to take back America expands as Andrew Jackson and Davy Crockett join the fight, and the legendary rivalry between Jackson and Crockett begins on the frontier." History
10pm Hour: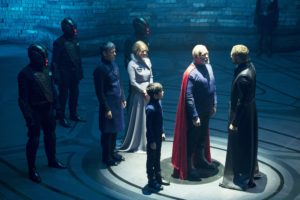 1st Choice:  Krypton.  "Seg learns his planet is in danger of being destroyed so that his future grandson will never be born." Syfy 

2nd Choice:  The Men Who Built America: Frontiersman. Continues on History.
3rd Choice:   Designated Survivor.  "When a blackout threatens to shut down the government and causes chaos in the streets of Washington, D.C., President Kirkman joins forces with Mayor Ellenor Darby, but the partnership doesn't end there" ABC