Wednesday nights are the best nights for fantastic TV. Unfortunately, its ALL stacked at 10pm. Our Top Pick To Watch Tonight is Reverie (catch up on our recap of last week's episode here) but we're also checking out Colony AND Six – DVR don't fail us now!
Earlier in the night, we play with dinosaurs on American Ninja Warrior and listen to the "fucking donkeys" on MasterChef and Gordon's new series, Gordon Ramsay's 24 Hours to Hell & Back. But really, its all about getting to 10pm.
8pm Hour: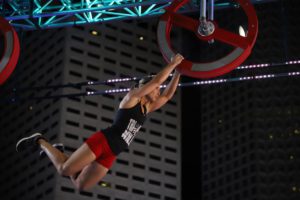 1st Choice: American Ninja Warrior.  "In Miami, competitors face six obstacles, including "Ring Turn" and "Slippery Summit." Notable ninjas featured include Jessie Graff, Drew Drechsel and Marjory Stoneman Douglas High School teacher Gabe Stewart." NBC
2nd Choice: The Handmaid's Tale. "The Waterfords embark on a diplomatic trip abroad. Serena faces the temptation of life outside Gilead. Luke and Moira grapple with survivor's guilt. Offred seeks support from allies." Hulu
3rd Choice: MasterChef.  "In the first skills test of the season, Gordon Ramsay teaches the home cooks how to properly break down a crab, before the contestants must replicate his work. The contestants whose skills don't cut it, face an elimination challenge during which Ramsay will show them how to make his signature Crab Benedict dish."  Fox
9pm Hour:
1st Choice: American Ninja Warrior.  Continues on NBC.
2nd Choice:   The Expanse.  "Holden sees the past, present, and future. A ghost from Melba's past threatens her mission. Bobbie struggles to trust an old friend as she leads a group into unchartered territory." Syfy
3rd Choice:   Gordon Ramsay's 24 Hours to Hell & Back.   "The premiere features Bella Gianna's, a family-owned Italian restaurant located in Congers, N.Y. After intense investigation and surveillance, Ramsay and his team discover the owner's temper has caused tension in the workplace and within his own family. Ramsay will try to bring this failing restaurant back from the brink of disaster in just 24 hours. Watch, as the clock ticks down and Ramsay and his team transform this restaurant with a spectacular renovation, a new menu and hope for the future." Fox
10pm Hour: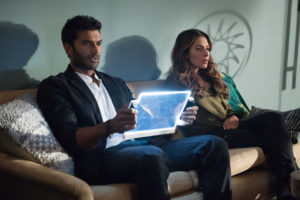 1st Choice:   Reverie.  "A family man robs banks in his Reverie and Mara must uncover the deeper reasons why. Mara's derealizations put her life in danger." NBC
2nd Choice:  Colony.  "Will follows clues that may expose a dangerous secret about the Seattle Colony. Katie helps a refugee family. Bram steps in as a parent to Gracie."  USA 

3rd Choice:  Six.  "Gina gives Michael one last shot to give up information on his connection with the Prince; Jackie goes to desperate measures to protect her family; and a high-powered ambassador is taken hostage."  History