Did you make it through last Friday being the 13th and all?!?! Good, glad you're still here with us!  Friday Night TV is a thing now because the shows are so good. Tonight? Murdoc is back to drive MacGyver crazy, that's worth the price of admission! At 9, I'm all about Marvel's Inhumans, no matter what the haters say.
But, if these aren't your cup of tea, head over to AMC where you can continue watching the series rerun of The Walking Dead!  As a special TWD treat, an all new docu-special, Walker World, will air at 10pm on AMC, and viewers will get to see some behind the scenes secrets on the making of the zombies and other special effects at work on the show.   These specials are all in celebration of the 100th episode which will air Sunday night.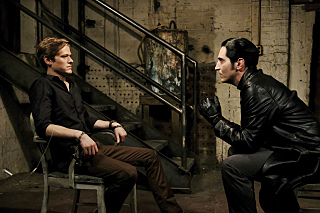 8pm Hour:
1st Choice: MacGyver. Murdoc is back tonight you guys, there is nothing else you need to know!! But here is the log line in case you do need to know, "When Murdoc drugs and kidnaps MacGyver, Mac uses a needle and his teeth to escape and join the team to save Murdoc's next victim." Needles! Teeth! Murdoc!!   CBS.
2nd Choice:  The Walking Dead.  The rerun of the series continues on AMC, as we run up to the Season 8 Premiere on Sunday night. This evening episodes takes us back to the early days of Team Rick settling into Alexandria.
3rd Choice:  Star Wars Rebels. Re-watch last week's 2 part season premiere! Disney XD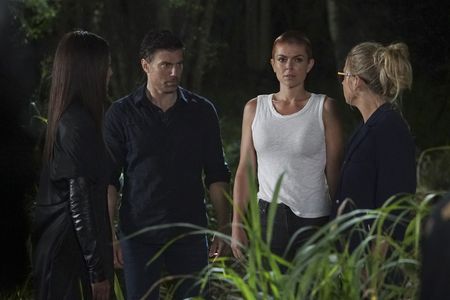 9pm Hour:
1st Choice: Marvel's Inhumans. Black Bolt & Medusa are finally reunited; now they just need to get the rest of their family back together. Meanwhile, Maximus continues being a D bag on Attilan.   ABC
2nd Choice: The Walking Dead. Still watching Team Rick try to live normal Alexandrian lives.AMC
3rd Choice:  Josh Gates' Destination Truth. Josh heads to an island of creepy dolls that are mayb e possessed! In Mexico! Travel Channel
10pm Hour:
1st Choice: The Walking Dead.  Last night's docu-special was called Behind the Dead. Tonight's new docu-special is Walker World and lifts the curtain on how the show goes about its zombification and other special effects!   AMC
2nd Choice: Ancient Aliens: Declassified. Maybe Satan was really an alien and super helpful becasue he gave humans all sorts of knowledge to create our powerful ancient civilizations.  Maybe? History Channel
3rd Choice:  Austin Powers: International Man of Mystery. This 007-inspired comedy classic is worth watching for no other reason than because its going to air on CMT of all places?!? CMT