The Greatest Showman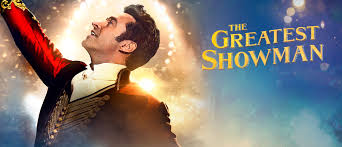 A few nights ago, in the middle of a random chat with two good friends, Kayla  and Beth (@kfink12 and @randombeth, respectively – follow them on Twitter, they're awesome), it came out that I had not seen The Greatest Showman. I missed it in the theaters because … life, and I hadn't watched it online yet. I was vaguely familiar with "This Is Me" and the soundtrack in general but mostly, no idea. On their recommendation, I rented and it was hooked in seconds. I was enamored with this fucking movie from that first Thump and I am so happy that I listened to them, its made my life better.
The Greatest Showman is officially described as a drama/romance but really its musical fantasy; an hour and forty five minute escapist adventure where you will be enveloped in visual and aural spectacle with only a few chances to catch your breath.  "They don't understand but they will."  The eponymous Greatest Showman, one Phineas T. Barnum, say this line to one of the curiosities he is recruiting for his show but it works as well for a summary of the film as a whole.
Before the movie begins, you think you're going to get some goofy songs and Wolverine in old-timey clothes. What you actually get, though, is a life experience that will stay with you.  This is not hyperbole.  The Greatest Showman is going to work its way into your heart and mind and take up toe tapping residence there. My advice? Just give in, its worth the surrender.
Released on December 20, 2017, The Greatest Showman comes from first time director Michael Gracey and writers, Jenny Bicks and Bill Condon (Chicago, Dreamgirls). The music and lyrics for the impressive soundtrack come from current "it" boys, by Benj Pasek & Justin Paul (La La Land) while Ashley Wallen provided the immense choreography.  On the acting front, Hugh Jackman, Michelle Williams, Zac Efron, Zendaya, Keala Settle, and Rebecca Ferguson lead a sprawling cast that spend almost two hours singing, dancing, and emoting their ways into your heart. 
Continue reading "Movie Review: The Greatest Showman – "Something Sensational""